6 Wow-worthy Chandeliers That Are Budget-friendly
Posted by SELMAN GUMRUK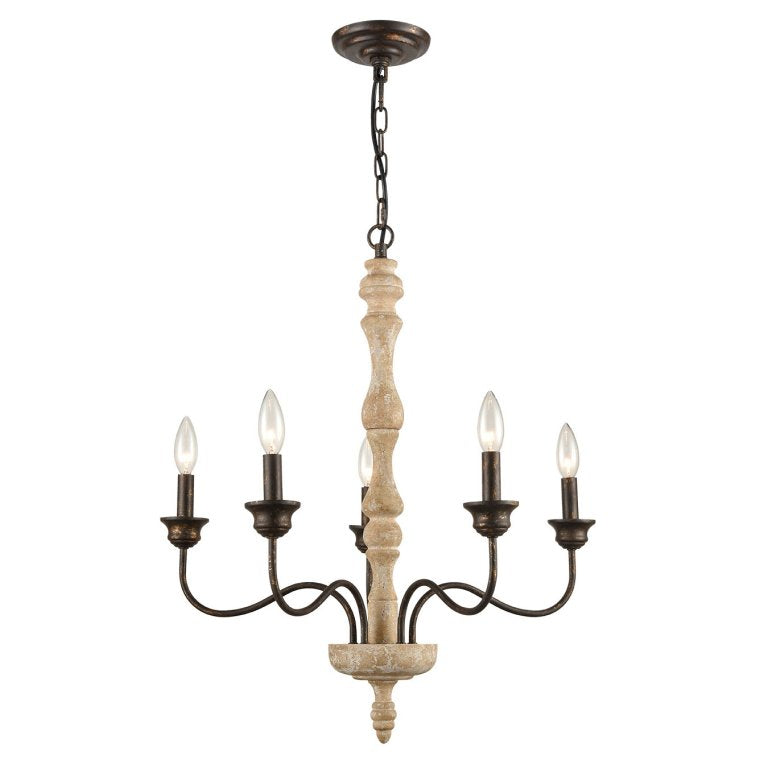 6 Wow-worthy Chandeliers That Are Budget-friendly
Speaking of making a statement with a chandelier, what is the first word that comes into your mind? Costly? Well, maybe you just have not found the right products. Adding a tons of style to your home decor does not necessarily mean spending a lot of money. We have rounded up some wow-worthy chandeliers priced under $300 that you can absolutely afford.
1.Farmhouse Shabby Chic Chandelier  $269.00
Add a softer touch to the rustic-style trend with this farmhouse luminary. Crafted from solid wood and metal, its wooden frame and and dark brown finish infuse a bit of old-world element to the interior. Putting a tasteful twist on the rustic aesthetic, it makes an incredible appearance with scrolling arms and five candelabra-inspired lights, but isn't over-the-top showy. Its beautiful dual finish encompasses both nature-inspired qualities and vintage elements, yet maintains a shabby chic style. The sculpted details on the column rounds out the design with a refined touch. From the foyer to the living room, you can adjust its chain and play with the height.
2.Fabric Shade Crystal Chandelier  $269.00
Looking to liven up a plain-looking space? This five-light crystal light fixture is gonna make your wish come true. Its chrome finish gives the interior a bit of bling with its metallic shimmer. Boasting five clear crystal bead chains above the shade and 31 crystal bead garland strands featuring varied shapes of pendants, it is a show-stopping addition to any indoor space that is lacking a wow-factor you've been looking for. Flaunting vertical stripes, its beige fabric shade introduces a dose of texture and conveys an aura of elegance to the space. This five-light luminary guarantees a luxurious look and seamlessly blends into any modern decors.
3.Farmhouse Large Glass Chandelier  $159.0
In need of an ornate light fixture to add character to the space? Turn to this five-light luminary. Constructed of solid metal and glass, it instills a farmhouse chic into the living space. Crafted from hand-blown clear glass, its five shades are exquisitely embedded into the scrolling arms, making a dramatic statement. Being characterized by a wine glass inspired element, it will inevitably become a favorite of liquor fanciers. Offering the perfect marriage of function and design, it contributes so much to the visual impact of the space. It is sure to become a conversation piece that radiates a huge dose of contemporary sparkle and shine.
4.Rustic Seeded Glass Chandelier  $229.00
Inject artistic vibe to your design scheme with this three-light luminary. Featuring a hand-painted brushed rubbed bronze finish, it exudes a dose of rustic chic to the living space. It boasts curved arms of its iron frame largely resembling the twigs and the seeded glass shades and candelabra-inspired lights resembling the flowers on the twigs, giving your home a hint of tasteful flair. The seeded glass shades deliver a dreamy, subtle texture, creating an glamorous effect at night. Bringing a modern twist to a rustic form, this attractive luminary is sure to complement the look and feel of your home. It provides the space with a stunning focal point that adds a romantic ambiance to dining room, living room or foyer.
5.Distressed Wooden Candle Chandelier  $299.00
If you want to energize a boring space with a dramatic showpiece, why not go with this wood luminary? Crafted from distressed wood and metal, the chandelier adds a pop of farmhouse style. Its quatrefoil wooden frame and candelabra-inspired lights offer a dash of vintage flair. It shows off a striking celestial inspired design, providing depth, dimension and a French country look that can't be resisted. Its candle covers and scrolling arms in a brushed off-white finish feature sculpted details and introduce a rustic charm to the aesthetic. This design is guaranteed to grab glances, whether it's greeting guests in the entryway or lighting up the dining room table.
6.Globe Wood Chandelier  $199.00
Looking for an interesting piece to elevate your home decor? Consider this six-light luminary. Natural materials bring an organic vibe to the globe silhouette of wood light fixture. It is composed of three circles being crafted from distressed wood. Inspired by an ancient armillary sphere, you can get a slightly different look of the light fixture to match your overall design scheme simply by adjusting the circles. It aims at creating a bold yet geometric tone by proudly introducing itself in entryway, foyer or living room. The natural-looking and awesome luminary commands attention, drawing the eye upward to a beautiful display of orbs suspended above. Title for image Title for image Title for image Title for image